Need More ? Have a look at our previous work
Line and Pavement Marking Removal
HIGH PRESSURE WATER BLASTING
High pressure water blasting utilises pressurised water between 34,000 psi and 40,000 psi to etch markings off of surfaces. This method is environmentally conscious as it does not produce dust or require chemicals common with other abrasive techniques.  Another benefit of high pressure water blasting,when compared with other abrasive techniques, is that it creates no scarring to the surface. 
POLYPLANER WITH SKID STEER  
For works such as road realignments where temporary line markings must be removed, Ring Us Group has an attachment for its skid steer loaders which is the only one of its kind in NSW! 
The Polyplaner can remove line markings from road surfaces at a rate of up to 30 metres per minute, with minimal damage to the pavement surface.
GRINDING
Grinding is a common method of line and pavement marking removal suited for smaller removal works where scarring is not an issue. 
SHOT BLASTING
Shot blasting is small beads administered at high speeds by a self contained vacuum to etch markings off of the surface. 
WHY USE RING US GROUP FOR YOUR MARKING REMOVAL NEEDS?
Over the years the Ring Us Group has practised and perfected line and pavement marking removal strategies that have pushed us to the forefront of marking removal.
Our years of development have led to us being a part of large removal works for government road authorities and other large companies looking for the most reliable workmanship for their projects.
Concrete Surface Preparation
CONCRETE SURFACE PREPARATION
WHAT IS CONCRETE SURFACE PREPARATION?
To achieve the best in surface preparation we use the combined efforts of our diamond grinders, shot blasters and high pressure water blasters to clean and prepare concrete to create the perfect base for other coatings to adhere to.
WHY IS CONCRETE SURFACE PREPARATION IMPORTANT?
The quality of your concrete profile determines the longevity of any coatings or finishes. Because of this we place a huge amount of importance on how we prepare surfaces to ensure every surface is as durable and long lasting as it can be.  
Concrete Polishing
WHAT IS CONCRETE POLISHING?
Concrete polishing involves using pads with a fine grit range to expose a flat and clean level of concrete combined with applying a densifier and then a finishing sealant to create an even and reflective surface. A range of colours and finishes are available to suit any style needs.   
WHY USE CONCRETE POLISHING?
Concrete polishing is a cost effective, easy-to-maintain and durable surface making it the perfect solution for a wide range of areas such as 
Restaurants 

Warehouses 

Homes 

Garages and other high traffic areas 
Epoxy Coating
WHAT IS EPOXY ?
Epoxy is a mixture of hardeners and resins that provides a strong, slick and durable coating for floors. Epoxy floors are ideal for workplaces of all sorts as they can withstand years of wear and tear. The manufacturer of Epoxy coatings and toppings will have a recommended surface preparation method and here at Ring Us Group we have all the equipment necessary to achieve these concrete surface profiles. 
WHY USE EPOXY ? 
Epoxy coatings and floors are a perfect match for all businesses thanks to their durable, chemical resistant, easy maintenance, long-lasting, sustainable and cost-effective materials. 
They can be applied to any floor type, including bare and sealed concrete. With a wide range of colour, pattern and style selections available, we can outlay and create the epoxy floor specifically designed for your workplace, regardless if it's a warehouse, a chemical plant, an office or a retail store.  
Concrete Resurfacing and Repairs
Does your concrete have cracks ? is it dry ? or need joint repairs?
Ring Us Group has the equipment and experience to fix your damaged concrete and make sure it stays for years.
Our Polyplaner has proved to be successful in the task of smoothing the lip of joining concrete paths to eliminate any trip hazard or graffiti in the concrete.
High Pressure Water Blasting
WHAT IS HIGH PRESSURE WATER BLASTING?
High pressure water blasting,

is the process of spraying pressurized water

 onto a surface to remove surface material and contaminants.
WHY USE HIGH PRESSURE WATER BLASTING?
High pressure water blasting is cost effective, efficient and environmentally conscious. Compared to conventional abrasive removal techniques, water blasting is a superior technique as it doesn't create dust, Vibrations or use chemicals.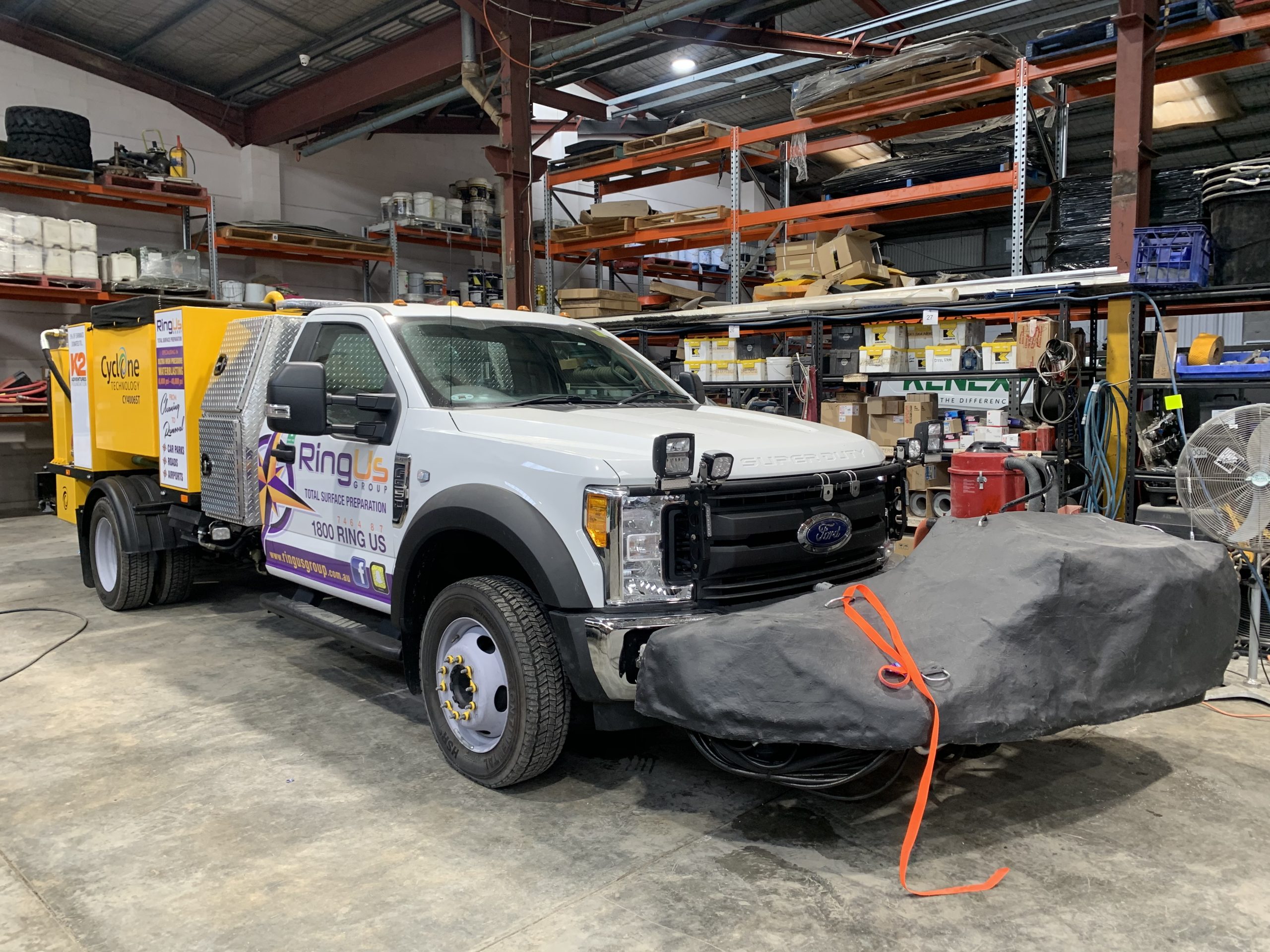 2017 F550 4X2 Reg Chassis XL 169" WB Chassis Cab 6.7L Power Stroke V8 Diesel 6 Speed Auto
Sucker Truck with Milling head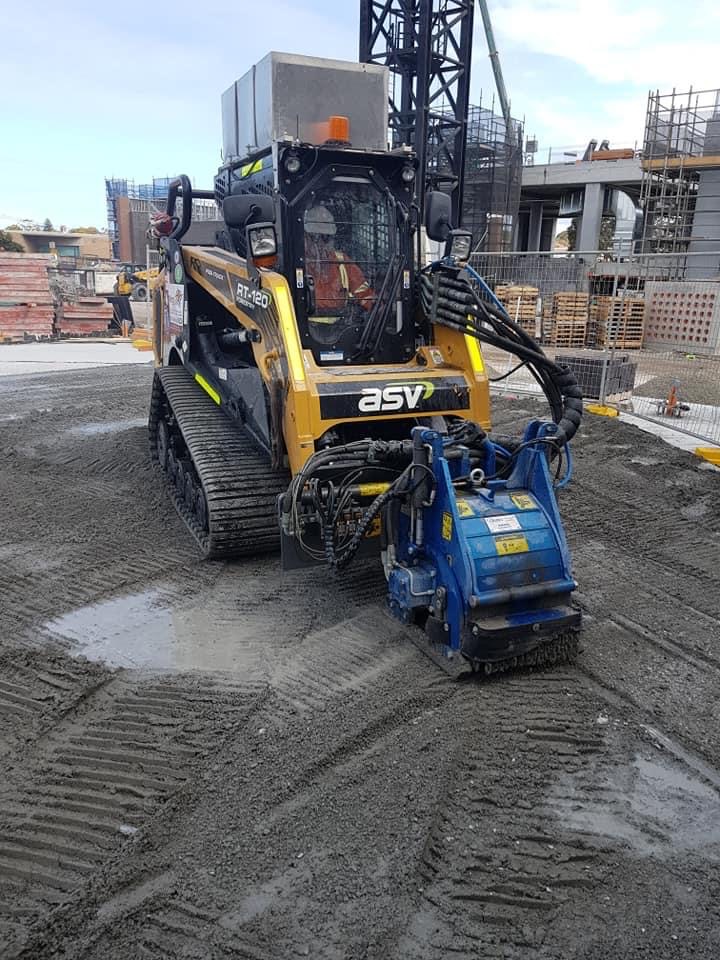 Volvo truck, 6 wheeler beaver tail, fold out ramps, tray length 6.8m x 2.5m wide, 1.2m deck height.
Have a Project in Mind?
Contact Us Now!